The evening was a conversational exchange with three extraordinary panelists and facilitated by Kate Simpson whose wisdom and care deepened the questions to consider the future of friendship.
See more here.
This Open State Festival event was held on Thursday 5 October 2017 6pm The Jade, Flinders St, Adelaide.
---
2017 Salons
What is the future of friendship?
Can friendship begin and end on line? Will we need face to face contact to nourish our friendships in the future? Will artificial intelligence and algorithms help us be better friends and choose our friends more wisely? Is it possible to have friends from other species?
Give your brain, body and soul a work out with a conversation worth having at our next Salon.
The panel for this interesting and far-reaching conversation includes:

Nicholas Bishop, Zoos SA
Nicholas is a Humanimal fascinated with learning, behaviour and the art of storytelling. He is currently the Manager of Nature Theatre at Zoos SA and has worked in the zoo world for the past 20 years, with a keen focus on birds and free flight presentations. He is owned by a Shakespeare-spruiking budgie called Nigel and shares learning adventures with Sneaky Pete, his canine comrade and would be able to share key insights of our friendships with other species!

Lauren Jew, Aldinga Children's Centre
What are the four year olds of today teaching us about friendship in the future? Lauren is a communicator, educator, collaborator, team-builder, networker and influencer and gets to eaves drop on how little ones make and break friendships.

Jo Jordan, Australian Friends (Quakers)
Jo has been an active member of the Society for the past 36 years participating in local, regional and national gatherings of Friends. She started her paid working life as a librarian and, after raising a family of three, she studied to be a teacher and worked SA secondary schools, both public and private as a teacher of English and Studies of Religion. Ten years ago her career took a different path, that of a civil celebrant, conducting weddings, funerals and community celebrations. Jo continues to juggle the voluntary, but demanding, work as national "head of church" with family life and being Granny.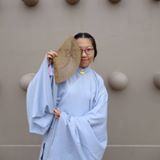 Artist-in-residence (Miranda) Lyu Dan
Be entranced by with the hypnotic sound of the autoharp providing a soundtrack to send us off to be more friendly in the future!
Kate Simpson, Facilitator
Kate Simpson will facilitate the panel conversation. Kate has spent the last 20 years working with individuals, groups and organisations to make the change they want, in complex settings. She has worked with global networks on improving trade rules, supporting communities and advocates tackling HIV/AIDS in Southern Africa, worked with disaster effected communities in Pakistan and Vietnam. Most recently she lead a social change start up working with South Australian leaders to establish child focused collective impact inititaives called Together SA. She is also a printmaker and meditator and wants to spend more time with trees these days. On friendship – she recently facilitated a community art exhibition called Stories of When Love Made a Difference. She knows that wherever she is, if there are 3 people she can be herself with, she'll be fine.
---

Are you a young person aged 18 – 25 living in the CBD or North Adelaide?
Interested in making new friends and network with experts in various fields?
Have a knack with social media or brimming with creative ideas?
City of Adelaide has partnered with Moira Deslandes Consulting to bring you Fired Up, a deconstructed Tedtalk-style event to the East End. We are looking for energetic and friendly youth volunteers who live in the city and North Adelaide to not only help make this event succesful but also co-create it with us.
Fired Up themes will cover the PERMA model such as Positive Emotions, Engagement, Relationships, Meaning, and Achievement. This is your opportunity to design the future and community you want to see in the City of Adelaide.
Come along to our induction and training day to be part of the team!
**Dinner provided.**
---
Poet Flora Chol ended the evening in traditional costume and full voice with a glorious poem about what it means to be alive in times of war and destruction. A regular contributor to Salt Magazine you can read some of her work there, including her poem for South Sudan which she recited at the Salon.
MDC is pleased to be partnering with Youth Affairs Council of SA and Junction Australia to offer these workshops.
---
Launch of Chooks : Let's get this done – Gender Equity in Start Ups and Social Enterprise
MDC is hosted the launch of Chooks SA – an initiative to bring gender equity and a gender lens to start ups and social enterprise. Commissioner for Equal Opportunity (SA) Dr Niki Vincent helped launch with compelling economic and cultural arguement for gender equity. Special guest panellists Melissa Cooper, UX Design Strategist and Tina Ferguson, Senior Program Manager, Innovation in the Office for Customer, ICT and Digital Transformation, Department of the Premier and Cabinet helped kickstart the conversation at the sold out event at the National Wine Centre.
To keep up to date with information on this venture subscribe at Chooks.
Save
Save
Save
Save
Save
Save